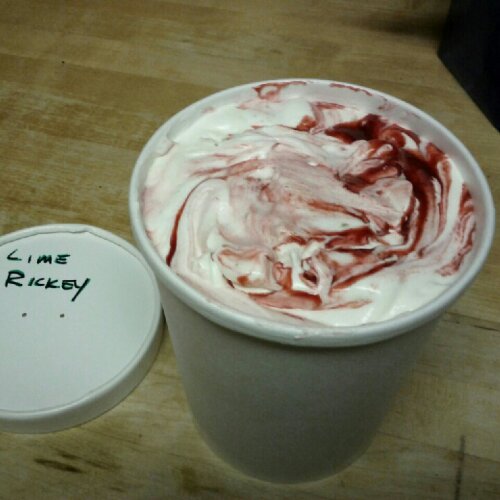 Standard base, plus:
zest of 2 limes, mixed into the base
Lime Syrup
combine 1/2c lime juice with 2 tablespoons sugar, heat to dissolve completely, then chill. Add the lime syrup at the beginning of spinning the ice cream.
Raspberry Swirl
(based on recipe in the Bi-Rite book)
Cook 12 oz raspberries (I used a bag of frozen organic berries) with 2/3 cup sugar, mixing to dissolve the sugar, and continue cooking until much of the liquid has evaporated. I should have cooked this down more — it wants to be a very jammy consistency for the right texture in the finished product. When packing the finished ice cream, swirl the raspberry goo in as you go.
Notes:
The kids complained because it wasn't green. Sorry, kids.