New This Week:
Lots of bathroom/plumbing work. All of the rough plumbing is in place, ready for inspection:
I'd never seen this kind of piping before. The plumber says that it's become common in the last 10 years — very flexible, and because it's got give to it, it's less likely to burst in cold weather.
All of the bathroom fixtures have arrived, but only the tub is in place so far:
We met with the cabinetmaker to look at his shop drawings, and a few tweaky changes will come as a result. He's supposed to get started cutting wood.
We got some samples of the wood ('Character grade hickory') that we're going to use for the floor, and will meet with the floor contractor soon.
Returned an underpowered bathroom fan and instead got the largest residential one that we can find (150 CFM).  The next one up is rated for industrial use, I think.  I'm afraid that even with this one you'll end up looking like Jack Nance after you take  a shower with it running.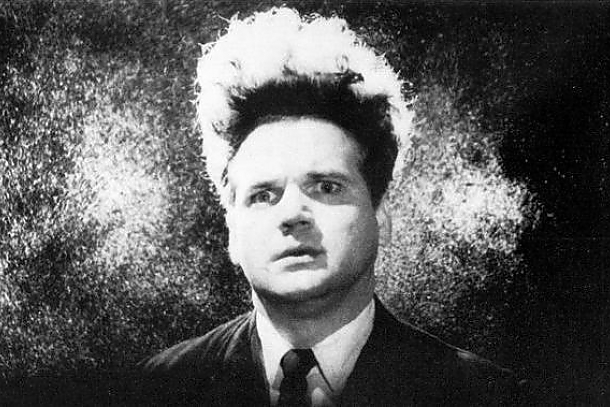 The kitchen is now completely gutted back to studs so it can finally be insulated. Picture the stove, cabinets, and bookshelf here:
…and over here where our corner cabinet used to be. We'll try to get that reassembled at the end of the project, but it may end up needing to be replaced completely: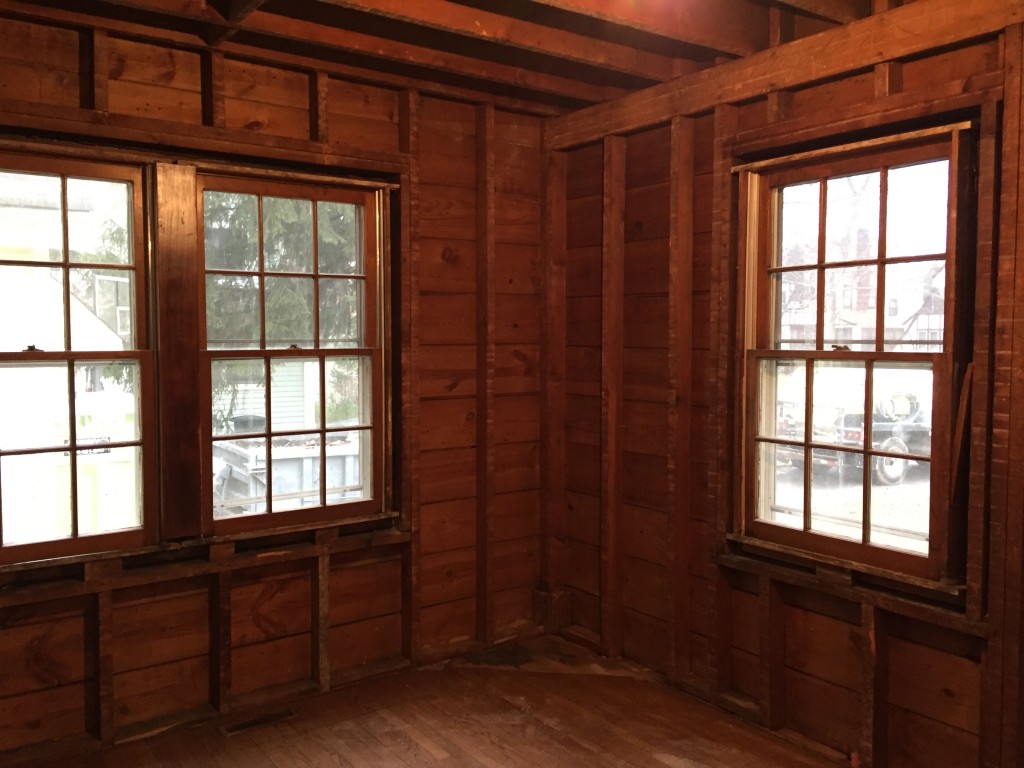 The other nice change this week is that they've started to frame out where the new entry door will be: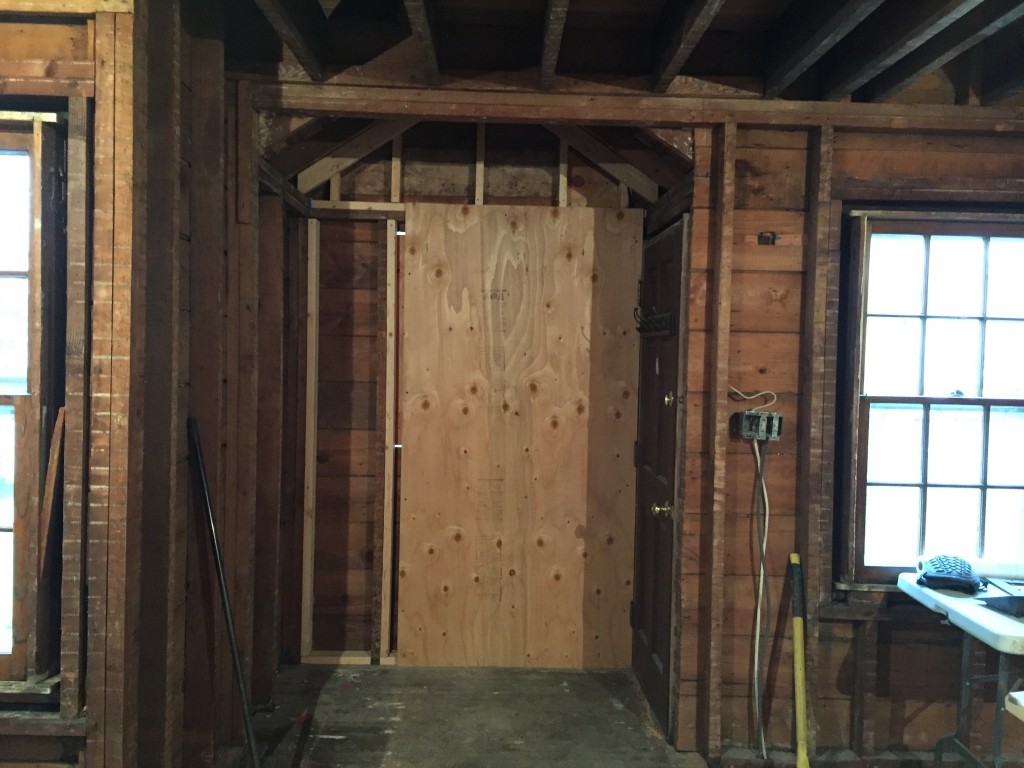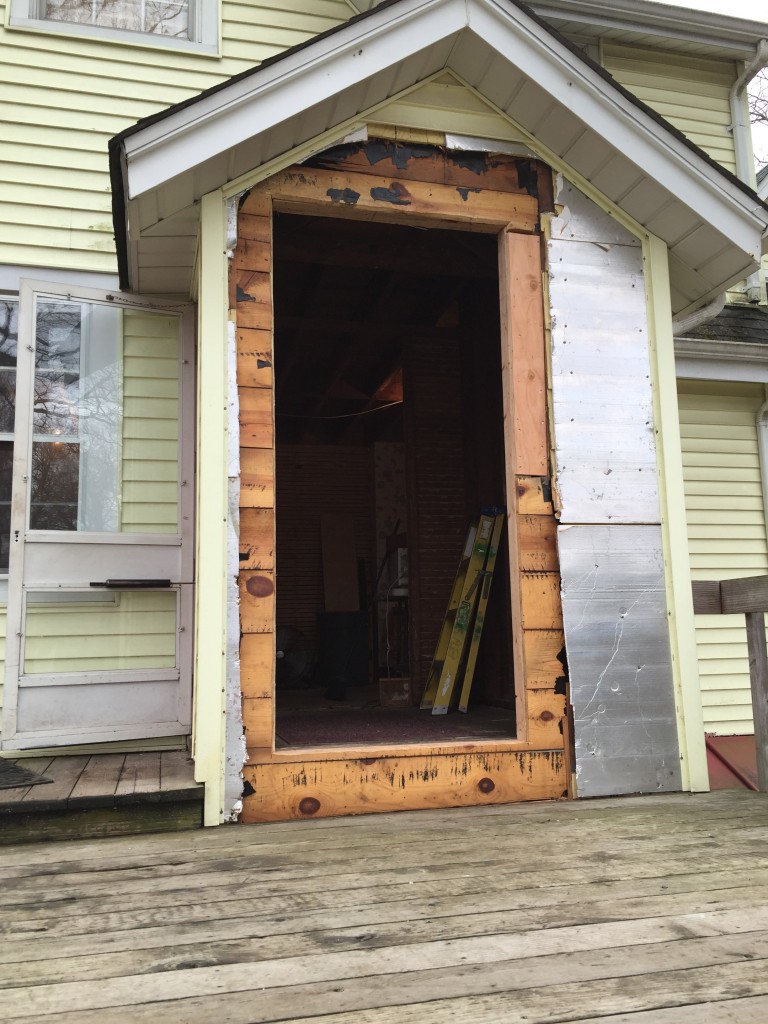 …replacing the old door on the left here. Anyone with advanced degrees in physics or basic experience living in the world will see the design flaw we're mitigating here, as we've spent the last 20 years having rain and snow drip onto us when trying to unlock the door.
This week:
Rough plumbing inspection
Ripping up remainder of kitchen floor
New plywood subfloor going down in kitchen
Begin rough plumbing in kitchen
Kath's birthday do NOT forget your wife's birthday
Begin electrical work in bathroom
Meeting with floor contractor
New windows for the downstairs arriving/installed
Door arriving (& installed?)
Also helpful this past week: I finally worked up a useful budgeting spreadsheet that has relieved a ton of stress that I'd been feeling.  I have a much better grasp on the details of the project, and I've also started to reorganize all of the assorted project paperwork that I've let fester and roil on my desk.
Currently avoiding:
No lie: we have at least 2400 paint chips that are the most trivial variations of bluish/greenish grays for the cabinetry. I'm convinced that 75% of them are in fact exactly identical and the paint companies are trolling us ("Hey — they say that they like 'Cheshire Blue' much better than 'Celadon Sky'. Hahahahahahahahaha"). The other 25% of the samples are just totally garish to trick you into thinking that you can see differences in the others.