Monday night, I went into Manhattan for a "benefit/funkraiser" for P-Funk/Talking Heads/Praxis/etc. keyboardist Bernie Worrell.
An article in Rolling Stone last week gave a pretty solid overview of what was planned: "To date, the still-evolving lineup includes Worrell with P-Funk colleagues George Clinton and Bootsy Collins; Jerry Harrison of Talking Heads; Nona Hendryx and Sarah Dash of LaBelle; Living Colour; Questlove; Buckethead; the Meters' Leo Nocentelli; the B-52's' Fred Schneider; Paul Shaffer; Meryl Streep (who fronted a band featuring Worrell in her recent Ricki and the Flash); director Jonathan Demme; and the Black Rock Coalition Orchestra, the night's presenters." An earlier lineup listing included producer/bassist Bill Laswell, who I was sad ended up not being part of the show.
The first part of the evening was hosted by the Black Rock Coalition Orchestra, who invited a wide selection of guests to join them: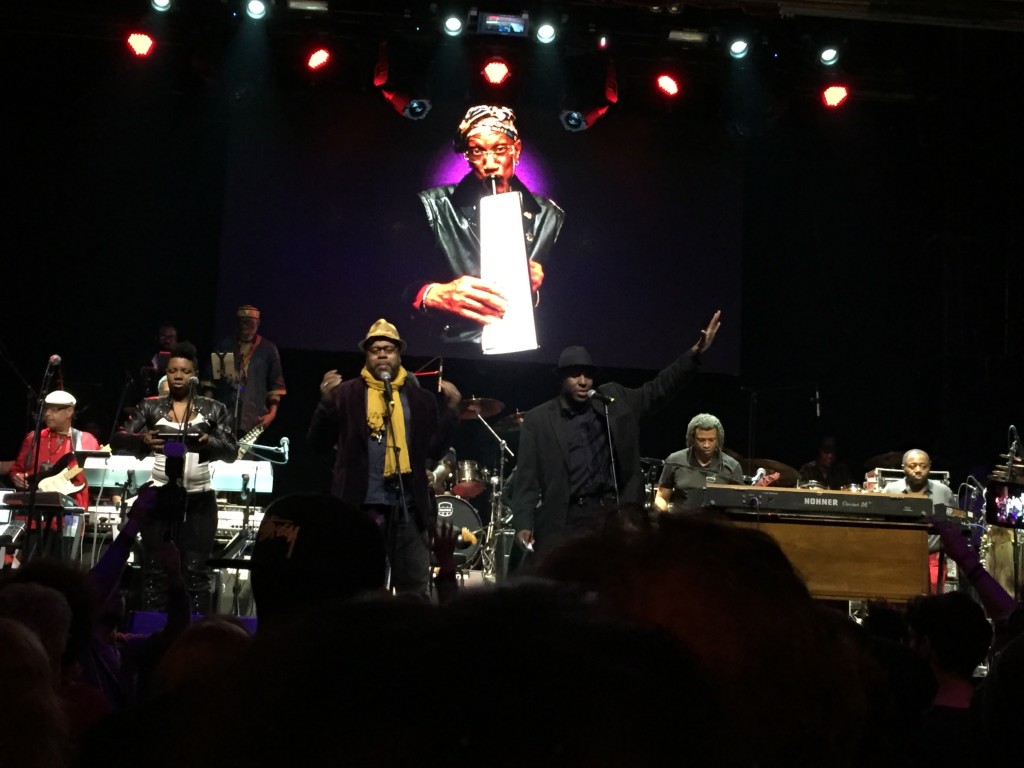 (You can't tell from these photos, but the group was HUGE. Longtime Bowie guitarist Carlos Alomar is in there someplace. I didn't even notice that it was Melvin Gibbs holding down the bass chair until they did introductions at the end of the set.)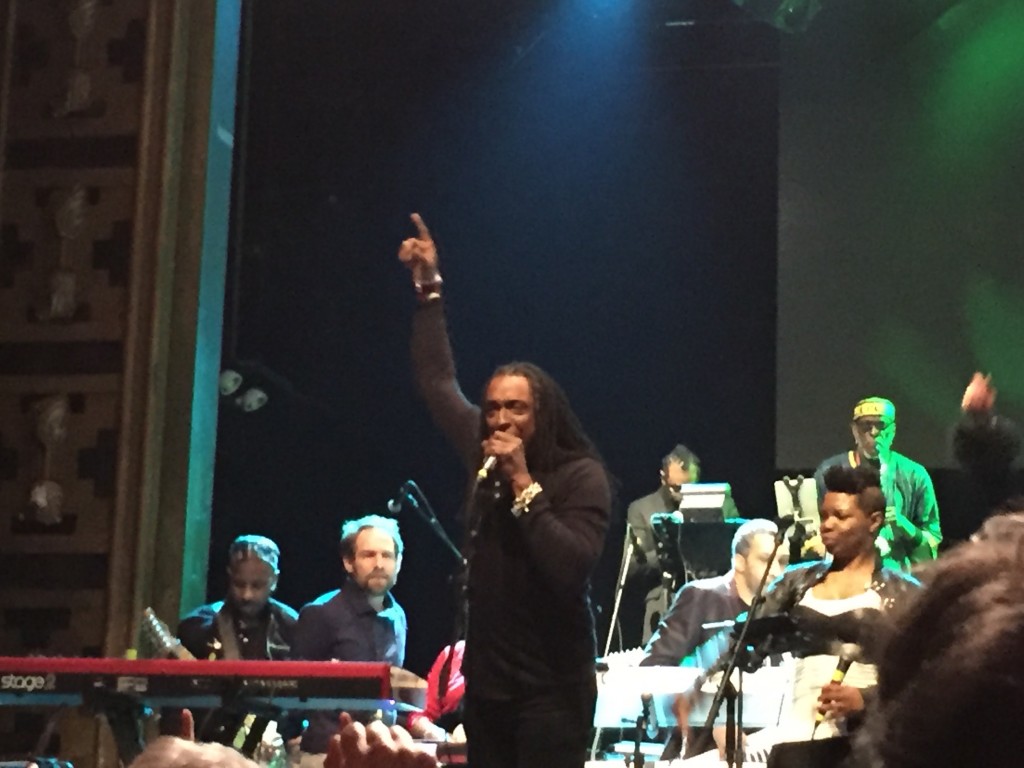 Bernard Fowler, who I know from a Philip Glass CD, but everyone else seems to know because he's been touring with the Rolling Stones since the 80s.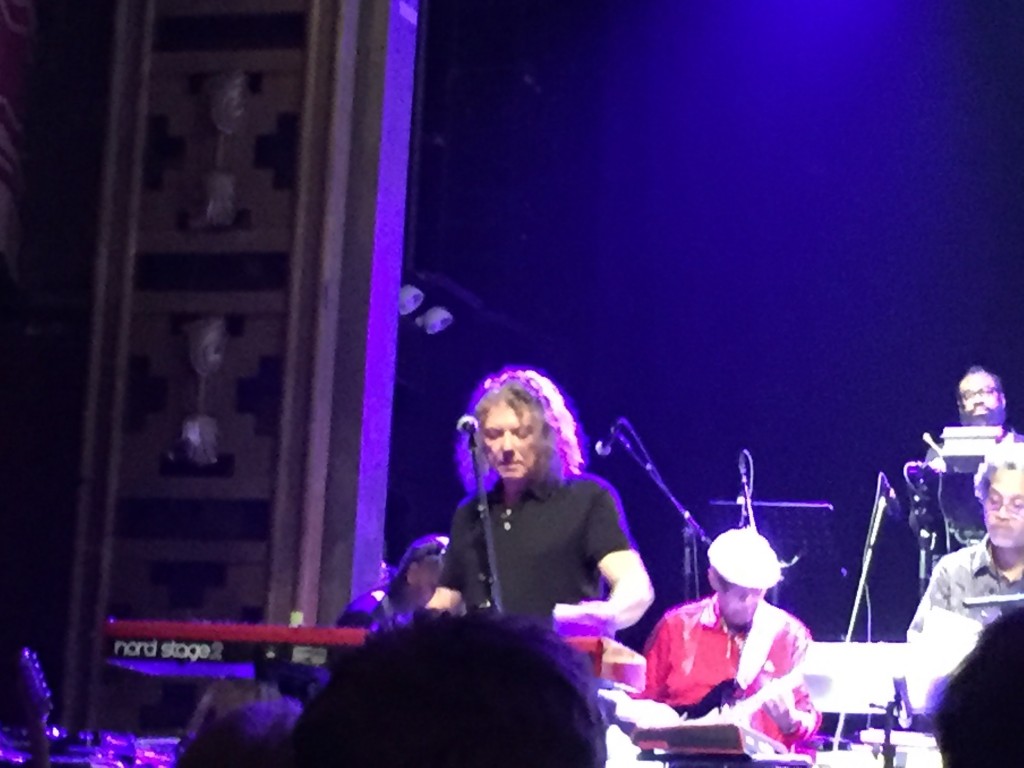 Jerry Harrison from Talking Heads did "Rev It Up" from his 'Casual Gods' CD, and also stuff from Velvet Underground and Modern Lovers (who he played with before joining Talking Heads).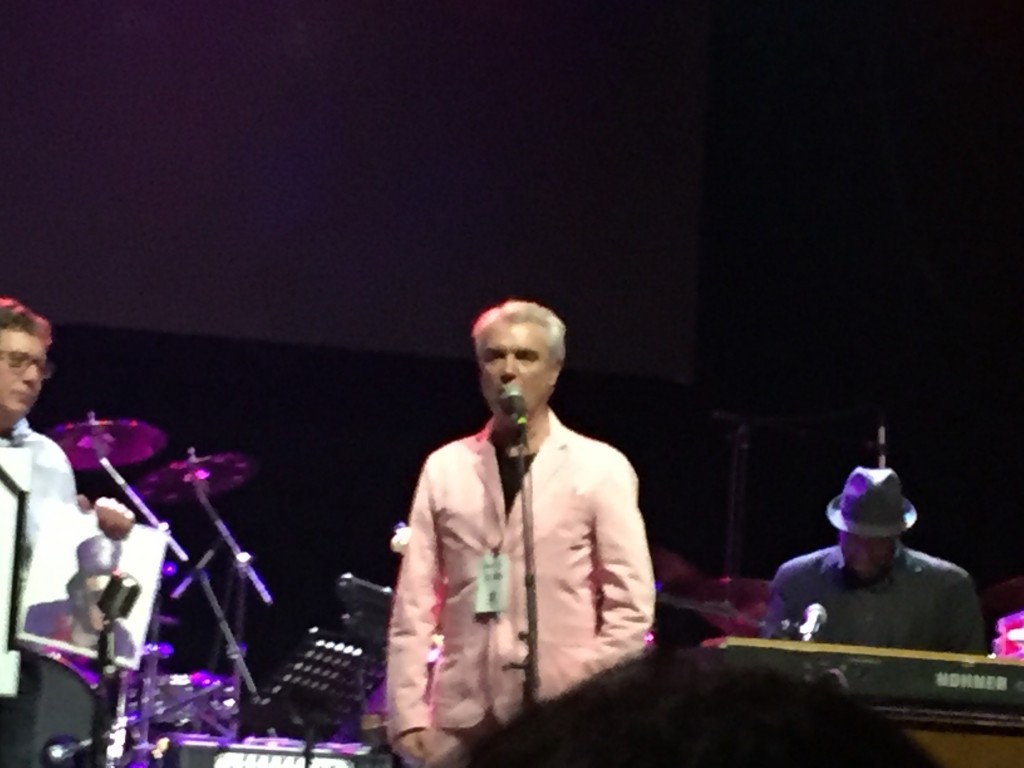 David Byrne spoke for a bit, but didn't perform. After the Black Rock Coalition finished their part of the event, a series of bands cycled through.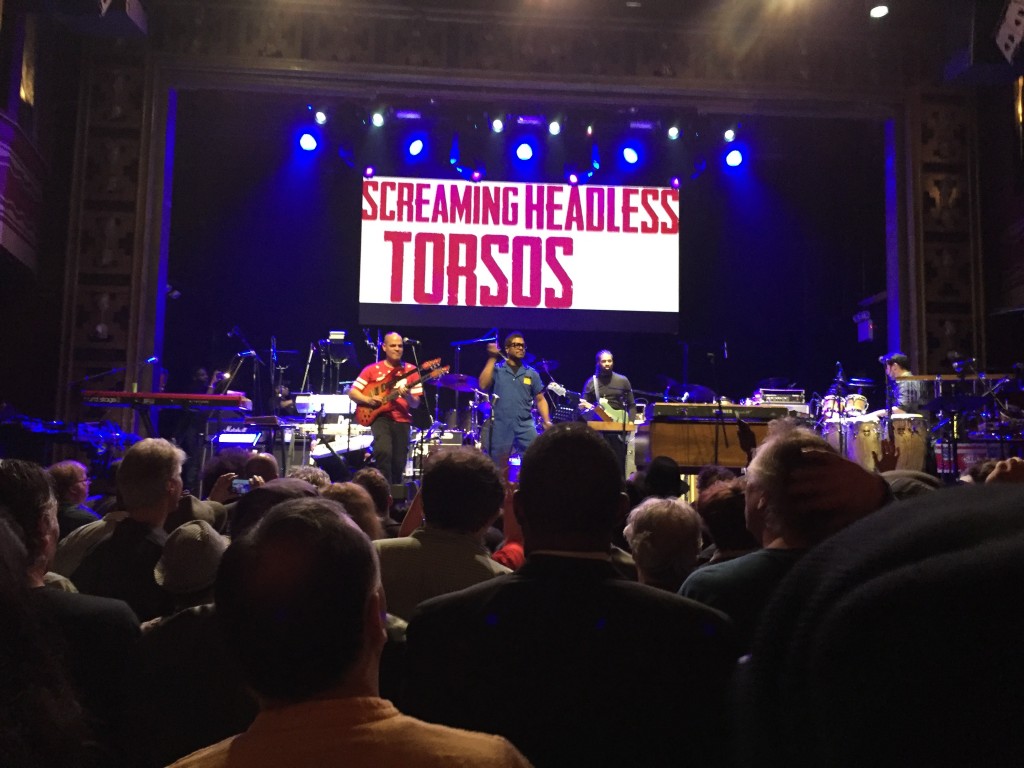 First, Screaming Headless Torsos, who I suspect blew away a bunch of people who might not have known of them before (I learned about this night's events at a SHT show in January). They did this song, which I love even though it's making fun of a guy who reminds me a lot of myself:
Paul Shaffer and the Letterman Band (who I didn't know were still performing together) did three tunes, and showed what a band can do when they play together 5 nights a week for 30 years. There were a bunch of tech problems during the performance, but Shaffer was able to work through everything with a smile on his face and keep the band completely together as he needed them to adapt the form on the fly.
Jerry Harrison joined Living Colour for a performance of the Talking Heads "Memories Can't Wait." Last time I saw Living Colour play, they were still young guys wearing neon colored neoprene suits.
Meryl Streep, Rick Springfield, and Jonathan Demme worked with Bernie in Demme's recent film "Ricki and the Flash."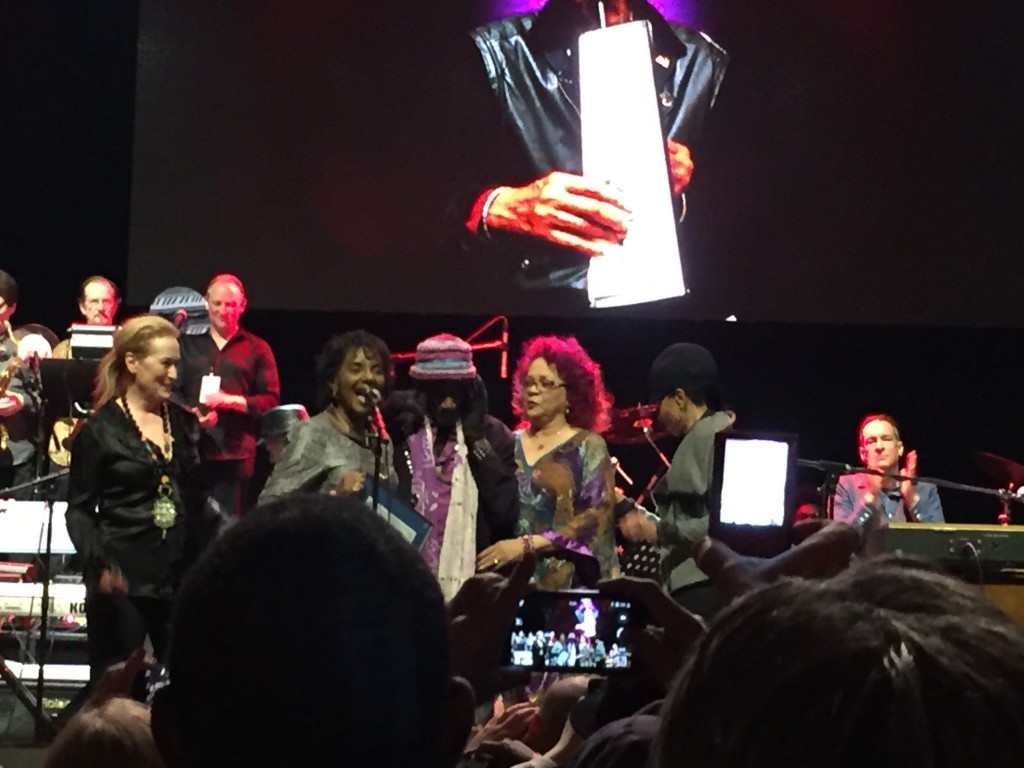 Newark mayor Ras Baraka sent a representative with a proclamation declaring a Bernie Worrell day in Newark. Not sure why Newark, I'm pretty sure that Bernie is from right next door to me in Plainfield.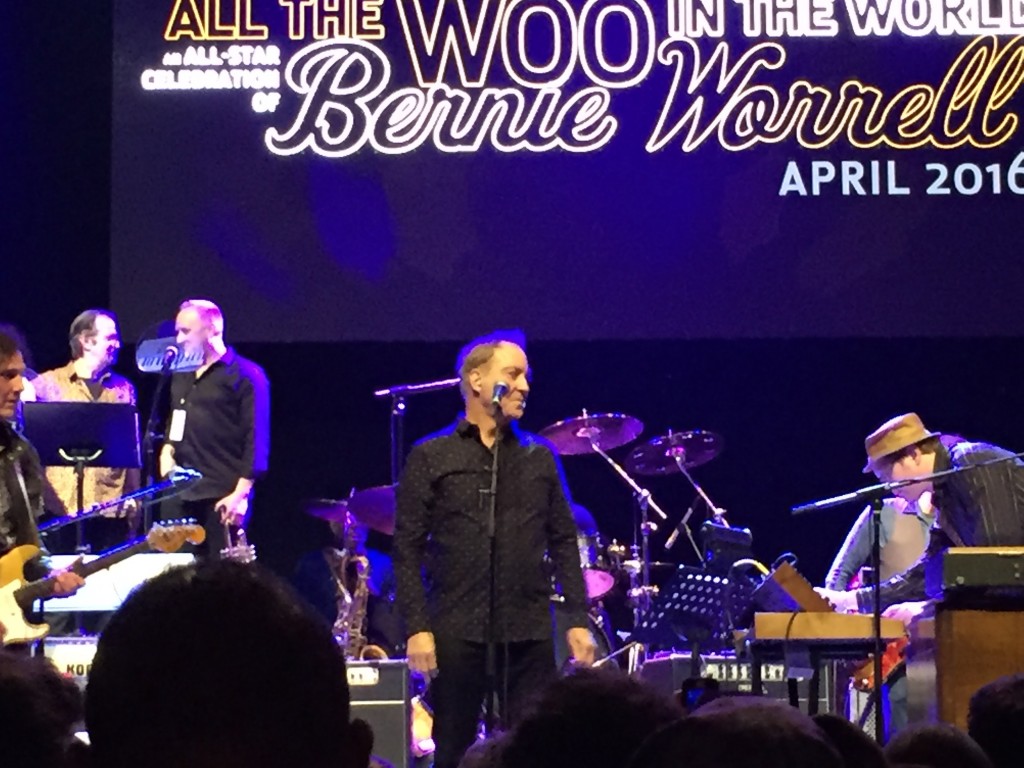 Fred Schneider of B-52s sang his solo song "Monster." Because why? This remains unclear to me.
Buckethead (who played with Bernie on a few excellent Praxis recordings) joined Leo Nocentelli from The Meters, which ended up being a less weird combination than I might have thought. The last time I saw Leo Nocentelli play, we were at the NAMM show, where some band was playing 'Cissy Strut' by the Meters and Leo just happened to be walking by. He jumped on stage; the guitarist handed over his instrument and got shown the proper way to play the song.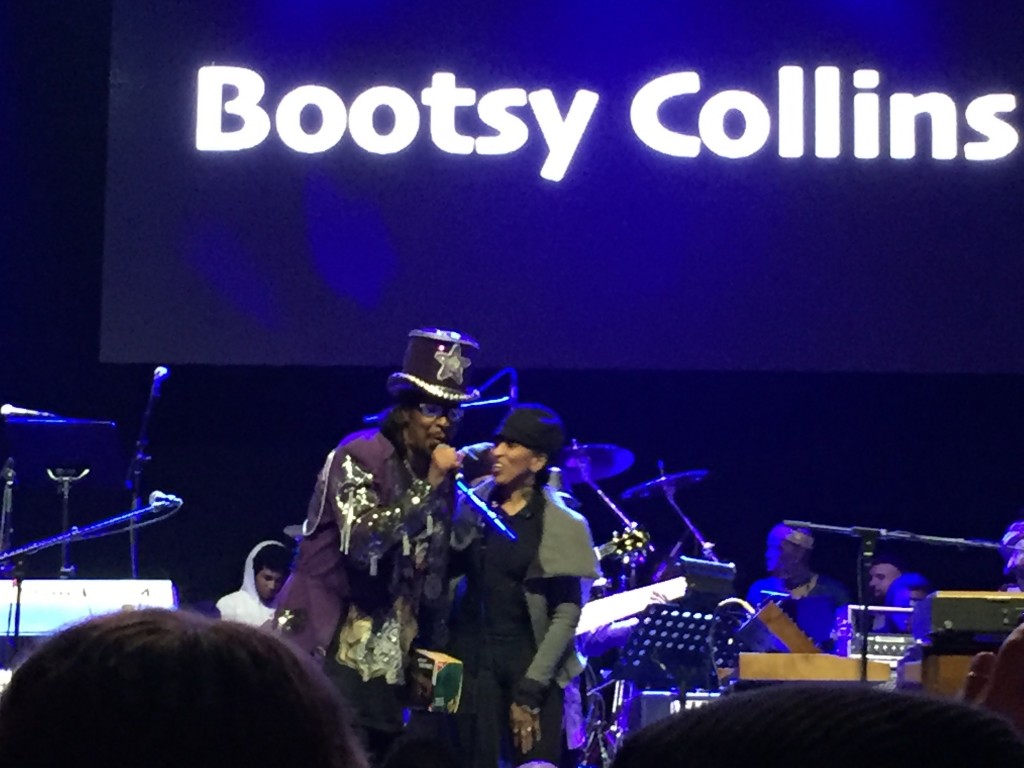 Bootsy talking about Bernie and recognizing the efforts of the great Nona Hendryx, who appears to have been the main force behind the event. Bootsy took other one of the drum kits and they brought George Clinton out, which is, on reflection, the only way you could have ended a 4.5 hour long show like this.
I remember after the Live Aid concert, Martha Quinn on MTV said that seeing Pete Townshend play the opening chords of 'Pinball Wizard' was like watching John Hancock sign the Declaration of Independence; this was kind of like that.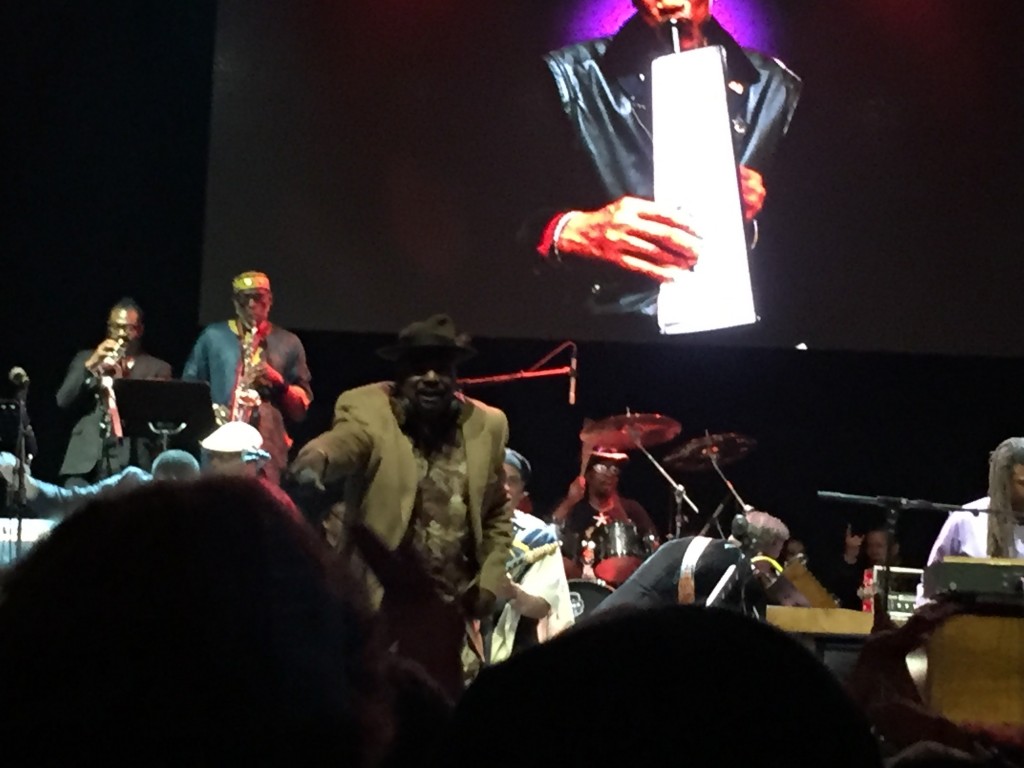 I haven't found a lot of video of the night, but YouTube user extplay posted a few great videos from about 20 feet in front of where we were standing:
After four and a half hours of this nonstop funk onslaught even I got so into things that I uncrossed my arms and everything.
Legit reviews: